Tom Brady: "I Was So Happy For Mike"
September 20th, 2023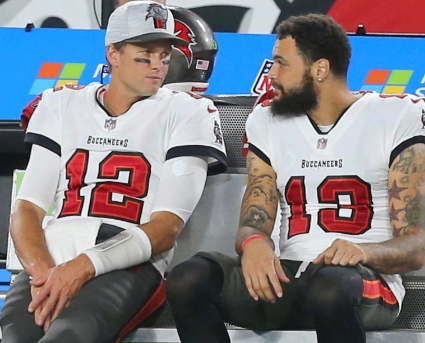 Joe has yet to hear Tom Brady talk about Baker Mayfield in a Tampa Bay uniform, but he was talking about another Buccaneer this week.
Brady still co-hosts his Let's Go! show weekly on SiriusXM Mad Dog Radio during football season. Little has changed with the format other than Brady doesn't talk Bucs each week and share his feelings about the last game in which he played.
The Goat seems to be enjoying life as a fan, and this week he mentioned that includes cheering for his buddies, including a certain Bucs receiver.
"Nice to watch … and not feel like you're living and dying with every single score," Brady said. "Yeah, there's teams I root for and the players, but it's not like when you're in the game and [you're thinking], 'Oh, God, I hope they lose because that's helps our position.' You know, you just want to see your friends do well. Mike [Evans] went for 160 [yards] or 170 this weekend; I was so happy for Mike. Seeing my friends do well is so awesome to see."
Brady had a ton of enthusiasm in his voice when he referenced Evans. Joe wonders if Brady will, later this season, publicly say the Bucs should pay the man what he's worth for 2024 and beyond.