"This Opportunity Is Huge For Him"
September 22nd, 2023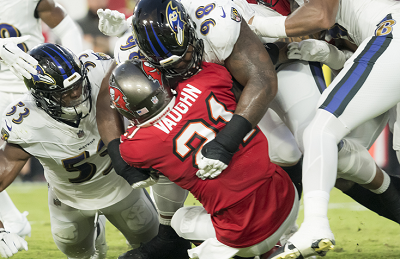 Here comes Ke'Shawn "Sneak" Vaughn!
The last time Vaughn played the Eagles, he had 17 carries against them in the playoffs of January 2022. Vaughn followed that up with only 17 carries all of last season.
Then he was named fourth-string running back after training camp this season and, by all accounts, had a one-day meltdown that saw him exit One Buc Palace without permission.
Put that in the rear view mirror because No. 2 (No. 3?) running back Chase Edmonds landed on injured reserve this week with a knee injury. The Bucs didn't sign a replacement, so Vaughn will be active Sunday.
Today, new playcaller Dave Canales said he's happy for Vaughn, the Bucs' third-round draft pick in 2020.
"Lotta carries to go around, 60-someodd-runs in the first two games," Canales said of his run-focused offense. "So just being able to carry the load. I'm excited for Sneak. The guy's worked his tail off, you know, the guy's really worked his tail off all camp. To get this opportunity is huge for him."
Hearing Canales made Joe think of how former Bucs star RB Leonard Fournette talked about how hard Vaughn works and that he feels badly for him.
Regardless, Vaughn will have a shot to impress again. And considering fellow Bucs running back Sean Tucker is averaging less than two yards per carry, Vaughn might not have to do much to stand out.