Strange Captains Talk From Todd Bowles
September 3rd, 2023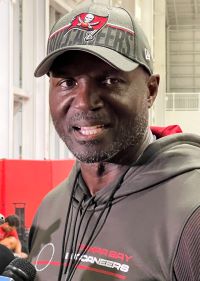 While which players are named team captains may matter little, sometimes who isn't captain or why coaches trying to manipulate their teams' captaincy is important and telling.
Typically, NFL teams let players vote on who will be named team captains for the season. That usually happens on or before Labor Day, prior to opening-day preparations. The captains usually are two guys on offense, two on defense and one for special teams.
Sometimes a head coach will name his own captain to supplement the players' choices.
Bucs head coach Todd Bowles is thinking he might start the season without captains, he said Thursday.
"Probably no time soon," Bowles said of choosing captains. "It's a little early right now. It may go by committee for a couple weeks and see how it goes, and then I may name some or I may let them vote on it. We haven't discussed it yet."
Joe finds this Bowles answer highly suspect, especially on a team with a ton of rookies and young players — and several Pro Bowlers and Super Bowl champs.
The Bowles comments invite a lot of speculation.
Did Bowles' answer have something to do with Mike Evans' contract squawking, considering it's a near lock that Evans would win a captains vote?
Is Bowles afraid Baker Mayfield would not be named a captain, so Bowles wants to make sure he is one? Or is it the opposite? Does Bowles not want Mayfield as captain because the team plans to turn to Kyle Trask in Week 6 if the Bucs struggle prior to their Week 5 bye?
Could this be a Devin White thing? Joe is confident White would be voted captain, but maybe Bowles wants to be sure?
This all feels odd to Joe. Does Bowles not trust his players? And if you can't pick captains before Week 1, then why have them at all?
Joe knows some college teams vote on captains every week, but that seems too goofy for an NFL team.