Second-Hottest Seat
September 7th, 2023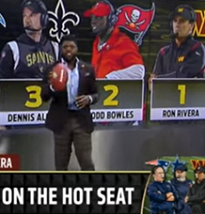 This one is a little stunning because it comes from a young guy who says he loves and admires Todd Bowles, in part because his brother played for Bowles and adored him.
The FS1 panel of NFL experts includes former linebacker Emmanuel Acho, whose brother Sam played years for Todd Bowles in Arizona and in Tampa in 2019.
Emmanuel Acho is often quick to drop love on Bowles, his coaching methods and defensive acumen. But Acho also thinks Bowles is now an unsuccessful head coach on a hot seat. In fact, Acho named his hottest coaching seats entering Week 1 and Bowles ranked No. 2 behind Ron Rivera (Commandoes) and in front of slimy Saints head man Dennis Allen.
Interestingly, Acho had Bill Belicheat at No. 6, and many reports out of New England make the same implication.
Joe is rooting hard for Bowles and the Bucs. Winning is good for Joe's blood pressure, wallet and overall mood. But Joe certainly could imagine Team Glazer pouncing all over signing an ousted Bill Belicheat to replace Bowles after this season.
For those who think 71-year-old Belicheat would retire if fired, he's on a quest to pass Don Shula as the winningest coach in NFL history. Belicheat needs 18 wins to tie the record. He's also 60 wins ahead of Andy Reid.
As for Acho, he sees Bowles as a guy who "got smacked around and blown out" of last season with Tom Brady at quarterback.