Plenty Of Lowest Priced Seats Available For Opening Day
September 4th, 2023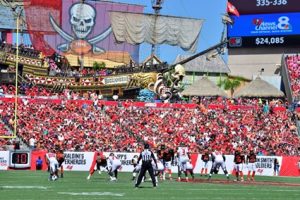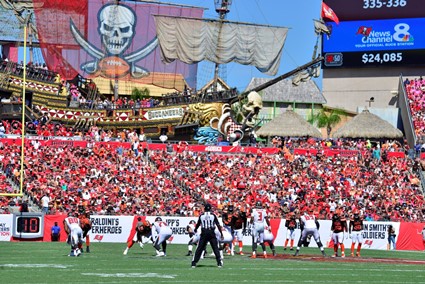 Joe's beloved Buccaneers home opener is 13 days away!
And you can still get the lowest-priced ticket.
That's not a great sign for attendance this season, especially considering the Bucs are hosting the Bears and many thousands of Bears fans already have bought their seats.
The official Tampa Bay ticket website, Ticketmaster.com, sells official game tickets never owned by anyone else. Per the website this morning, about 1,500 seats remain unsold for the Bucs-Bears game on Sunday, Sept. 17. They're mostly throughout the upper decks. However, keep in mind TicketMaster doesn't always show every available seat.
The cheap seats are $144.00 plus fees. (It's good to be Team Glazer.)
Joe has gotten a chuckle from the irony of digital ads Ticketmaster and/or the Bucs have been running to try and fill the stadium.
Most of them feature Mike Evans.
If you'd rather not dent your credit card bill with a trip to the stadium, join feisty Bucs fans and Sage of Tampa Bay Sports Ira Kaufman at Big Storm Brewing Co. in Clearwater for opening day. Ira rolls in about 11:45 a.m. and Florida's best craft beer and a fantastic menu will be flowing.
---
Join Ira Kaufman and Bucs fans on opening day at the Big Storm Brewing Co. taproom in Clearwater, on 49th St. just south of Ulmerton Road. 
Beautiful covered patio with strong sightlines and audio. Indoors, too! Cocktails, Florida's best craft beer and more.
SEE YOU SUNDAY!