No Tom Brady Texts For Baker Mayfield
September 6th, 2023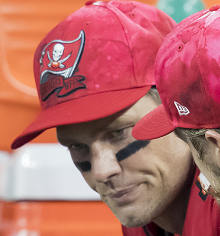 It's only Wednesday and the Bucs kick off Sunday at 1 p.m., but so far there have been no texts from Tom Brady to the man who is replacing him.
Baker Mayfield was asked today if he's gotten any encouraging words from Brady via text. Mayfield gave a terse replay of, "No," along with a head shake.
Recently, Patriots quarterback Mac Jones said on WEEI radio that Brady has been there for him as a mentor and they've communicated via text.
Joe has no thoughts of Brady bleeding pewter and red. And Joe certainly thinks competitive Brady low key wants the Bucs to lose this season so he doesn't get a little stain on his resume. There's no way Brady wants Mayfield walking around in January saying he took over for Brady and the Bucs improved.
Joe isn't calling Brady a whiny asshat, but Brady is so competitive that it might be hard for him to cheer for his successor.
Would it be nice for Brady to have a chat with Mayfield this week? Yeah, it would be.