"It'll Benefit Them About Halfway Through The Season"
September 27th, 2023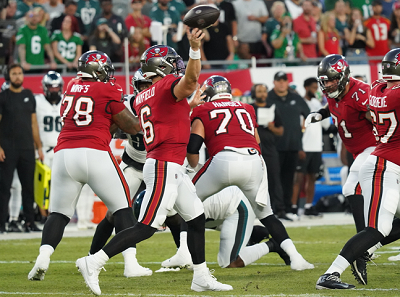 Todd Bowles is a very patient head coach. That trait can be good and bad.
This season, it's a positive trait because the Bucs roster has 13 rookies and a first-time playcaller.
Bowles knows he has no choice but to be patient.
At various times during his news conference today, Bowles said players and offensive coordinator Dave Canales are learning valuable lessons that will pay off later. But when is later, Coach?
Bowles sort of pinpointed that yesterday during his sitdown with WFLA-TV sports chief Dan Lucas. "It'll benefit them about halfway through the season," Bowles said, referencing his roster learning its way.
Joe is going to hold Bowles to that. This Bucs team, barring injury woes continuing at the current rate, should be better in the second half of this season.
That's one aspect to why Tampa Bay's 2-1 start is so encouraging. If the Bucs can find their way to a 5-4 record, the remaining schedule should feature many winnable games with a much more mature roster and offensive coordinator.