Five Things
September 26th, 2023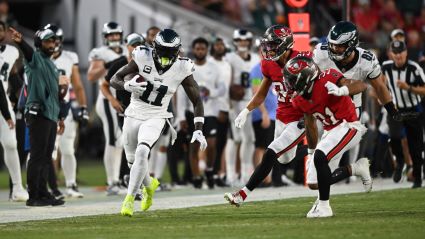 It's closer to sunrise than it is midnight so Joe will keep this brief. Besides, why torture innocent readers?
Reality Check
Simply put, the Eagles are not the Bears. Or the Vikings. There is a reason Minnesota, the Bucs' Week 1 opponent, and Chicago, the Bucs' Week 2 foe, are a combined 0-6. They stink.
And there was a reason why the Bucs got steamrolled last night. The Eagles are damn good. And the Bucs, well, not as good.
Look, the season is not lost. The Bucs are still in first place with a 2-1 record in the NFC South. The Bucs still control their own postseason destiny.
A lot has to be cleaned up, though.
Hopefully, the Bucs' got a wake-up call and realized, at least on the line of scrimmage, and learned the hard way what it will take to hang with the best the NFL has to offer.
The first day of the rest of the season begins this morning. Now is the time to figure out what needs improvement and how to fix it. Or, adjust blocking schemes, adjust personnel or change things up.
The Bucs, as evidenced by last night's game, have little margin for error if they want to make noise in the playoffs.
Finding A Running Back
After last night, Joe is done with Rachaad White. No, Joe's not ready to cut him. But White has had plenty of chances to show he's The Guy. Way too many. Twelve career starts.
If the Bucs are bound and determined to keep White as an RB1, then something needs to be adjusted in a hurry. It is White's running style? His vision? How he is used? Does the offensive line need new blocking schemes? Something has to change or the Bucs will be lucky to score 20 points in a game.
The Bucs want to run the ball. The Bucs don't have anyone to run the ball. Maybe philosophies need to change. Be open-minded. There are other weapons on offense.
As Mick Jagger once sang, "You can't always get what you want."
Walking Wounded
Man, the Bucs defense is in shambles.
Here is the laundry list: Carlton Davis (toe), Calijah Kancey (calf), Vita Vea (pec), Devin White (groin — or as former Bucs commander Greg Schiano would say, "Devin has a groin."), Jamel Dean (shoulder).
Those are critical players on every level of the defense to lose going against any team, forget the bruising defending NFC champs.
Bucs coach Todd Bowles likes to do all sorts of exotic stuff on defense. But if he is handcuffed by all of these injuries, that limits what he can do on defense and thus limits just how good the defense can be.
The Bucs really need to get healthy on defense and unfortunately, that takes time.
The Joe Tryon-Shoyinka Factor
It isn't just Rachaad White who Joe is fed up with today. It's time to start working in more and more YaYa Diaby and less snaps on third downs for Joe Tryon-Shoyinka.
The way he got absolutely owned last night by Lane Johnson on a critical third down that let Jalen Hurts have enough time to get an oil change, which resulted in an Eagles touchdown, fully revolted Joe.
It's like JTS had zero counter-move. Johnson looked like he was playing Patty Cake with JTS. He wasn't even hitting him hard. Almost like love taps.
And JTS was fully taken out on the play. C'mon!
Joe thought JTS was turning a corner when he had two sacks against the Bears. Now Joe has to reassess. And so should Bowles.
More YaYa and less JTS. It's not like JTS hasn't had opportunities to demonstrate he deserves to be an every-down outside linebacker in the NFL.
Props to Devin White
White was questionable to play with a bad groin. Yet he gutted it out. And the proof he was far from 100 percent came when White picked off a Hurts pass late in the first half at the Bucs-17.
White had a path to the opposite end zone. Given how White is one of the fastest linebackers in the game, Joe thought this was a pick-six.
But no! White only jogged about 23 yards when he voluntarily stepped out of bounds. His groin must have been killing him so badly, he couldn't move any more.
Joe was a bit rough on White this past winter when he demanded a trade. But man, the way White went out there and busted his tail while clearly being hampered and slowed by his bad groin, well, that impressed Joe.
Much respect, Devin!