Charlie Weis: Bucs Are Contenders
September 26th, 2023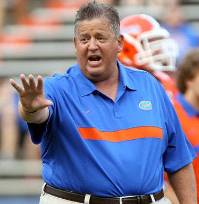 The Bucs got their butts kicked last night at The Licht House but no Bucs fan should be hanging a head.
That was the message this morning from often-cranky Charlie Weis, the savvy retired playcaller who guided young Tom Brady before leaving New England and turning Matt Cassell (Chiefs) and Vinny Testaverde (Jets) into Pro Bowl quarterbacks as their offensive coordinator.
Weis is a co-host on SiriusXM NFL Radio and he was wagging a finger at Bucs stud receiver Mike Evans today.
That impressive Bucs drive against the Eagles in the second quarter? The one in which Baker Mayfield begain 5-0f-5 passing before a Cade Otton drop? It's under the skin of Weis.
Weis watched it end with what he felt was a dropped touchdown pass by Mike Evans.
Joe's film review shows the defender's hand was in with Evans' two hands, so Joe can't call it a drop. But it certainly was catchable; Joe has seen Evans muscle much more difficult throws into his mitts.
Tampa Bay settled for a field goal to tie the game at 3. Weis thinks seven points there could have been a game-changer for the Bucs.
"A [touchdown] score early in the game, you don't know how things are going to be different," he said.
What most intrigued Joe was how adamant Weis is about the Bucs being contenders for the NFC South crown — not because of their record but because of the team they put on the field.
"There isn't any reason Tampa can't hang in this division," Weis said.
Of course, Weis is correct. Win against a backup quarterback on Sunday in New Orleans and the Bucs are in great shape.