Bigger Than You Think
September 29th, 2023
BY IRA KAUFMAN
Every NFL coach says it, including Todd Bowles: It's the most important game because it's the next game.
Don't believe it.
Not all games are created equal. While each win or loss counts the same in the standings, different matchups vary in terms of expectations and ramifications.
Given their 2-0 getaway, the Bucs were not facing undue pressure Monday night when the Eagles came to town. An upset victory would have been marvelous, but the 25-11 setback was neither surprising nor devastating.
Week 4, at New Orleans, feels different.
The Bucs have their sights set on a third consecutive NFC South crown, so the first divisional game of the season carries substantial weight. To say there's no love lost between the Bucs and Saints is a huge understatement. There's also a good chance Jameis Winston will be under center for an injured Derek Carr, adding another layer of emotion to this matchup.
And most of all, the difference between a 2-2 record or a 3-1 start entering the bye week is huge.
The Bucs can put a little distance between themselves and the Saints while taking some momentum into the break. A setback would give Tampa Bay a 2-game losing streak, triggering concerns and potential roster upgrades.
New Orleans is coming off a brutal loss at Green Bay as the Packers rallied from a 17-point deficit in the fourth quarter. It was a surprising meltdown by a defense that has carried the Saints since Drew Brees hung up his cleats.
New Orleans has gone 29 consecutive games without allowing a 300-yard passer, dating back to a midseason 27-25 loss to Matt Ryan and the Falcons in 2021. The Saints currently boast the No. 6 scoring defense in the league and crowd noise could be a factor for Baker Mayfield in the Superdome.
New Orleans has overhauled defensive coordinators and churned the roster, but three mainstays remain for Dennis Allen, encompassing all three levels. Defensive end Cam Jordan arrived in 2011 and has been named one of the NFL's Top 100 players eight times in voting by his peers. Linebacker Demario Davis has been a standout in the Big Easy since 2018 and elite cornerback Marshon Lattimore was drafted in 2017. Jordan holds the distinction of being one of the few edge rushers to cleanly beat Tristan Wirfs for a sack.
With Wirfs now operating on the left side, it's Luke Goedeke's turn to handle a savvy veteran.
Like Lavonte David, Davis roams sideline-to-sideline and isstout in coverage. Lattimore enjoys playing mind games with Mike Evans and he usually wins this stirring matchup.
Jordan tried to downplay the annual rivalry against Tampa Bay, but he's unconvincing — especially when he fires a shot at Buc Nation.
"We have areas we want to take advantage of and I feel like over the years that has been an area we have seen work for us," says Jordan, who was then asked about Buc supporters.

"I don't think they have fans anymore once Tom left," he said, referring to life after Brady.
Things could get dicey for the Bucs if they drop this one.
Remember last year's 2-0 start? That was followed by a stretch of five losses in a 6-week stretch, including three setbacks at home. The slate after the bye week is no picnic, starting with the surging Lions at Raymond James Stadium. After another home game against Atlanta, the Bucs will be on the road four times in a 5-week stretch.
Even that road matchup at Houston in Week 9 is no gimme, considering how rookie quarterback C.J. Stroud has given the Texans some offensive juice.
While it's too early in the season to label Sunday's game as a must-win, the Bucs need to show they can beat a team with a winning record. With a victory in the Superdome, Buc players can scatter jubilantly to the Bahamas and look for dolphins. With a loss, sullen Buc players can stay close to home and look at film.
This can go two ways.
The Bucs can hit the bye week acknowledged as one of the league's biggest surprises at 3-1. A loss would trigger speculation that Todd Bowles has another 8-9 club on his hands.
And yes, that makes this a very big game.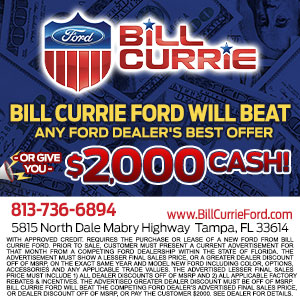 ---
---
Join Ira Kaufman, JoeBucsFan and great Bucs fans on
Sunday for the Saints-Bucs clash! Roll into the Big Storm Ybor taproom around noon for the 1 p.m. kickoff!
Hit the graphic below to check out the menu and all the great Big Storm beers and spirits.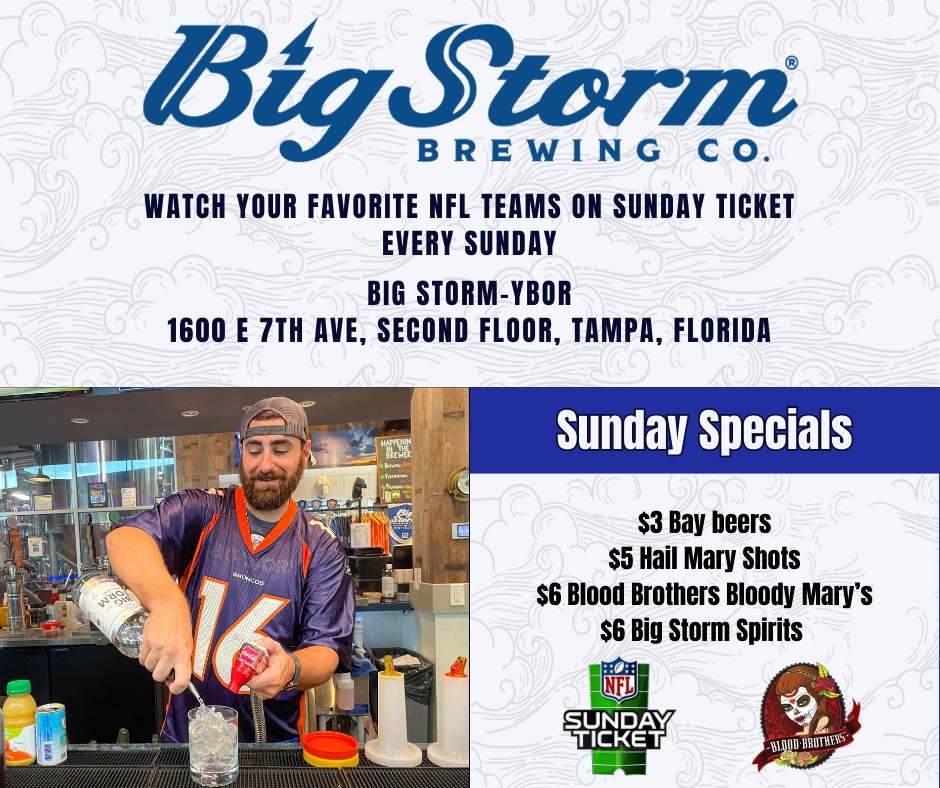 Great food, fun, cocktails & Florida's best craft beer at the Big Storm Brewing Co. taproom in Ybor City, upstairs at Centro Ybor!