Better With Baker?
September 18th, 2023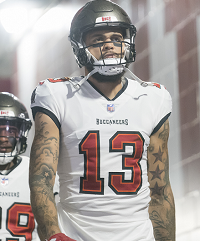 Mike Evans is 763 yards from another 1,000-yard season with 15 games to play.
Raise your hand if you think he won't get there.
Joe has no doubt, if Evans stays relatively healthy. A big reason is targets. Every receiver needs them and Evans has averaged 8.6 per game through his NFL career. However, Evans averaged 7.4 targets per game when Tom Brady was quarterback.
Early evidence shows Evans will be back to normal this season. Through two games with Baker Mayfield, Evans has averaged 9 targets per game.
He's also caught two-thirds of those targets with two drops mixed in. So it's clear that Evans' is on the same page with Mayfield even if his hands failed him a couple of times.
Joe suspects Evans will continue to be fed the football. Playcaller Dave Canales is no fool, and Mayfield is smart enough — and ballsy enough — to test the limits of Evans' massive catch radius.
Could 2023 be Evans' best season? Joe can't go that far. But it's going to be damn hard to keep Evans from his fifth Pro Bowl if the Bucs keep throwing him the ball.