Baker Mayfield On Pace For 3,604 Yards, 23 TDs & 6 Interceptions
September 26th, 2023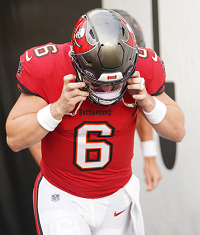 Three games into Baker Mayfield's Buccaneers career and Joe only knows a few wacky fans that want to throw him off the pirate ship.
That's a heck of an accomplishment, but Mayfield has done more than that.
Mayfield landed back on earth last night, making a mistake that turned into an interception and getting rattled a few times by a nasty Eagles pass rush. (Yeah, Joe saw Tristan Wirfs look mortal a couple of times. Poor guy has set such a high bar that any sign of weakness stands out.)
Mayfield has faced a great team, a miserable team, and a talented team with a home field advantage that's still figuring itself out. It's a small sample size but at least it's diverse.
The Bucs' starting quarterback has completed two thirds of his passes 62-of-93 for 636 yards, 4 touchdowns and 1 interception. That puts him on pace for a heck of a season at 23 TDs, 6 picks and 3,604 yards through the air.
Joe's giving Mayfield a solid B+ grade overall in his short Bucs tenure. Sorry, but Joe can't hang the miserable running game on No. 6.