Ali Marpet Evaluates Each Offense Lineman
September 28th, 2023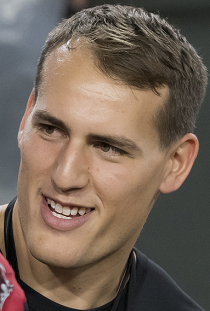 Retired Bucs guard Ali Marpet (2015-2021) now chimes in on the Buccaneers Radio Network.
This week he was talking offensive line play. Surprise!
Marpet likes how the Bucs are mixing in different types of run blocking (pulling, "side zone," outside zone) and not relying super heavily on power running. But he admitted that little worked against the Eagles on Monday night.
Marpet noted it's always ideal to attack a team's weaknesses "but [the Eagles] didn't really have much deficiencies," he said.
As for Bucs' offensive linemen individually, Marpet was all positive. Frankly, that's what Joe expected to hear Marpet say on the team radio network, but Joe hasn't heard enough of Marpet yet to know if he's a total homer or was just being candid.
Here are his comments:
On Tristan Wirfs: "Tristan, I feel like gets glossed over making that switch from right to left. But my gosh. He's kind of crushed that transition which is not easy to do but is still worth acknowledging."
On Luke Goedeke: "Luke, I think, really has done a nice job out at right tackle. That's a difficult transition to make and he's gone against some really good players."
On Matt Feiler: "Feiler's been super consistent. That kind of surprised me that he's much he's bounced around [the NFL] as much as he has considering how consistent he is."
On Robert Hainsey: "Hainsey, gosh,  … when you talk about expectations of third-, fourth-round picks, that range, you don't expect them to play as well as Hainsey has, honestly. I mean, sometimes they far exceed those expections."
On Cody Mauch: "Answered the call."
Overall, Marpet said he is impressed by how the line has played as a new group with many "question marks" and he expects them to improve steadily.