Wild Card Bucs
August 25th, 2023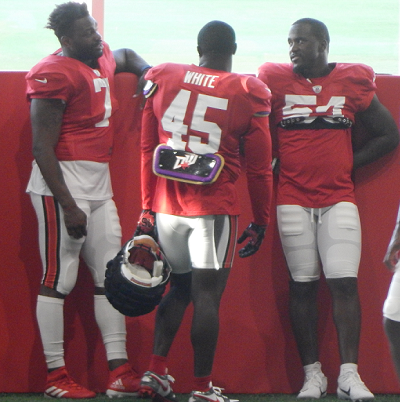 Prediction season is here and Joe can't wait to unload a bunch of them on an upcoming Ira Kaufman Podcast.
What's more fun than guzzling Big Storm beer while making football prognostications and arguing about them with The Sage of Tampa Bay Sports?
The Bucccaneers are a huge wild card team this season, meaning Joe knows many fans are thinking 10 wins in a crappy division while many others are sniffing a four-win total. That's a huge disparity. Usually, the wins-range for fans of a team isn't so wide.
Former Bucs QB Chris Simms illustrated how the Bucs are a team that's tough to predict this season. Making and dissecting NFC South picks on his NBC Sports YouTube show, Simms said he feels the oddsmakers nailed it when they gave the 2023 Bucs an over-under of 6 1/2 wins.
Ultimately, Simms chose the under for a Bucs season win total, but then he waffled and explained how he wouldn't be surprised if Tampa Bay started the season 3-1 with wins against the Vikings, Bears and Saints.
And of course, if you go 3-1, there's no good reason to finish with six wins unless an injury wave arrives.
Simms has a lot of faith in the Bucs defense and is skeptical the offense will be any better than last year's, in part because he thinks Chris Godwin and Mike Evans aren't what they used to be.
Joe sees an improved offense for 2023, primarily because it couldn't get much worse than the 18 points a game the Bucs averaged last season. And Joe also believes in the Bucs defense.
Modern NFL history says if a team can average 20 to 21 points a game and have a top-10 defense, that team is going to win 7 or 8 games. The slimy Saints landed in that camp last season.
Ira Kaufman Goes Deeper Into The Baker Mayfield Decision, Talks What Wants To See Against Baltimore, The Bucs & The Trade Deadline, Bucs Running Backs Uncertainty & More