Tight-Lipped Todd Bowles
August 17th, 2023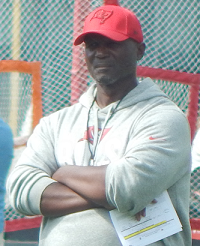 Head coach Todd Bowles wasn't in much of a giving mood this morning with reporters after practice.
He wasn't interested in talking about who will and who won't play Saturday against the Jets (expect few projected starters), and he wasn't commenting on whether he wants to name a regular-season starting quarterback after that game.
Also, Bowles wasn't saying (admitting?) that the canceled practice with the Jets on Thursday put a major hiccup in team plans, preparation and hopes for this week's work.
Bowles said yesterday that the Bucs would get great work in today and make up what they wouldn't get against the Jets. Today, the head coach said the team got that work done. However, Joe saw a Bucs team having an extremely light practice this morning that was short overall and blown dead with 8 1/2 minutes remaining in the final practice period.
Players Joe talked to yesterday lamented the lost session against the Jets, and a couple of non-players told Joe it was "unfortunate" as it relates to the quality of Thursday's practice.
Bowles also was tight-lipped on who shined on film against the Jets.
(That made Joe chuckle. After practice, Bowles says he has to watch the film to assess what happened. So then he's asked the next day about "the film" and doesn't say much.)
Joe was among those who questioned Bowels about who stood out Wednesday, and Bowles shied away from naming names. Joe Tryon-Shoyinka was the only player noted. No surprise there.
Lots of intrigue about how the Bucs will handle the remainder of preseason. But Joe expects little to change until Monday, when Bucs are sure to shift to regular-season, game-week mode with a starting quarterback named and a schedule that mimics the regular season.