"This Is Hilarious"
August 21st, 2023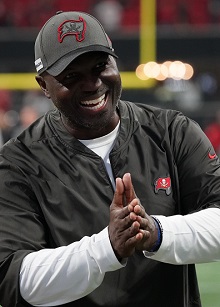 A Todd Bowles fan and former player is getting a lot of laughs from his ex-coach, a man he loves.
Joe is referring to Tampa's own Leger Douzable, who played defensive tackle for Bowles with the Jets and is busy working for SiriusXM NFL Radio and CBS Sports. 
He's not one of those blubbering morons that considers the Bucs an afterthought on a national scale.
Co-hosting on SiriusXM NFL Radio today Douzable was asked about Bowles not announcing a starting quarterback and saying a decision hasn't been made. Douzable wishes Bowles would stop the comedy routine but he thinks he knows why it's happening.
"I love my guy Bowles but he's got to stop it," Douzable said. "He knows who the quarterback is for Week 1. This ain't nothing but some gamesmanship and we know it. He just wants the Minnesota Vikings guessing in Week 1. I would not be surprised if he took this all the way up to Week 1."
Could the all the Bucs know who the starting QB is but try to keep it secret until game week against the Vikings? Douzable doubts any team could avoid a media leak like that, but he said Bowles might give it a shot.
"This is hilarious," Douzable added. "This is Baker Mayfield's job."
One thing helping the Bucs keep the charade going, Douzable said, is Kyle Trask's improvement. Joe has to agree with that. The fact anyone believes it's still a competition between Trask and Mayfield is a testament to Trask's development.