"This Is A Real Starting Level Talent"
August 24th, 2023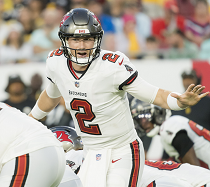 Baker Mayfield didn't just get named Tampa Bay's starting quarterback, he won the job by beating out a real NFL starter.
That was the message today from Buccaneers offensive coordinator Dave Canales. The proof is there for all to to study, he said.
"If you watch Kyle's film and you throw on any of the [preseason] games across the league, you'll see this is a real talent. This is a real starting level talent at quarterback," Canales said of Trask. "He just has calm in the pocket. He's accurate. He just stays cool throughout the whole thing. Good or bad series he's right back on it. So, pretty cool."
It is very cool. Trask looked like he could start and win games, albeit his preseason work is a very small sample size. So right now he seems to be a quality and intriguing NFL backup, which the Bucs desperately needed at an inexpensive price.
Canales talked a bit about the quarterback competition, noting Mayfield "felt the heat" from Trask during a few-day stretch early in training camp.