Taking Sides
August 6th, 2023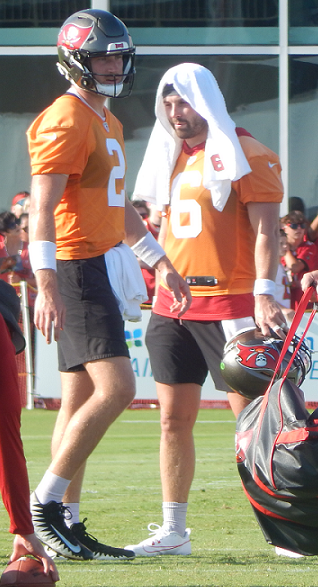 It's hard to believe that Baker Mayfield is playing for his eighth head coach and sixth offensive coordinator as he starts his sixth NFL season.
That was a big topic of discussion last week on FS1. Yes, the Mayfield-Kyle Trask competition actually got national run.
Mayfield has a lot of diverse experience. That's not necessarily a good thing, but that's his story at 28 years old.
Ex-Browns and Jets head coach Eric Mangini, the former right hand man of Bill Belicheat, chimed in to say that he's certain Todd Bowles and new offensive coordinator Dave Canales will be riding the Baker bandwagon when a decision is made in a couple of weeks.
'The coaches are going to feel more comfortable with Baker because of his experience, his poise, his presence, and that comes with age and with getting a chance to play,"  Mangini said.
However, Mangini said he expects the Tampa Bay front office to come down on the side of Trask if the competition is close.
Joe can't be sure. But Joe is confident general manager Jason Licht and his team are rooting hard for Trask, though the powers there will respect Bowles' decision without whispering under their breath if he chooses Mayfield after a close battle.
While there is investiture for Trask as a 2021 in-house draft pick, the front office also gets a fat gold star if Mayfield succeeds on a crazy cheap one-year contract for a starting quarterback.