Significant Arm Talent Edge For Baker Mayfield?
August 23rd, 2023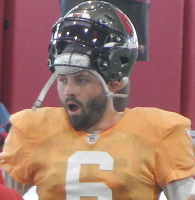 Former Bucs quarterback Chris Simms shared what he learned talking to people with the Jets about Kyle Trask and Baker Mayfield, as well as what he was told when hanging out with Bucs officials on Hall of Fame weekend, when his old teammate Rondé Barber was inducted.
Simms works for NBC Sports and opened up a bit on Pro Football Talk live today.
Simms said he reached out recently to Jets contacts and asked how Trask looked in practice against the Jets last Wednesday. Simms said he got good reviews on Trask but they came with an asterisk. "'He's physically not Baker, he can't throw it like Baker,'" Simms said he was told.
The Tampa types raved weeks ago about Mayfield's arm talent popping in training camp, Simms said, and that it surprised them.
Combine the playmaking talent with an inexperienced offensive line, Simms added, and Mayfield was an obvious choice after showing he can adapt to a similar system quickly in Los Angeles last season.