Russell Gage Carted Off From Bucs Practice
August 16th, 2023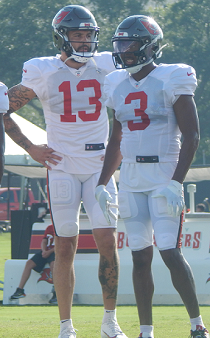 UPDATED: 11:02 a.m. — It seems Russell Gage suffered a significant injury in New Jersey this morning.
His head in his hands while he was carted off told a story.
Very early in practice against the Jets, a 7-on-7 session, Gage caught a short relatively low ball from Baker Mayfield on the left side. He seemed to be pushed to the ground rather routinely by a Jets defender and crumpled to the grass field in visible pain.
Gage was on the ground for more than two minutes and was carted off.
The teams did not continue practicing on that field.
Joe will have more on this after practice, roughly at 12:45 p.m.
Gage still was recovering from a year-long and re-aggravated hamstring injury. He was considered healthy and played in the preseason opener Friday against the Steelers.