"Outstanding Anticipation"
August 31st, 2023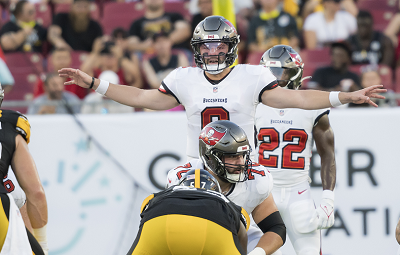 After nine seasons as a backup NFL quarterback for 11 NFL teams, J.T. O'Sullivan found his way into the online analyst realm breaking down QB film.
His latest subject is Buccaneers starting quarterback Baker Mayfield.
Specifically, O'Sullivan, a 2002 sixth-round pick of the Saints, dialed in on Mayfield's final preseason showing Saturday against the Ravens. Every throw was dissected down to the play design and the decision making. It's a quality watch if you're into the fine points of the game.
Yes, it's preseason, but O'Sullivan is confused by what he considers odd, senseless or muddy play design by Bucs offensive coordinator Dave Canales. However, O'Sullivan balances that out by detailing and illustrating why he loved the play design and execution of Mayfield's 11-yard-touchdown pass to Chris Godwin.
That was Mayfield's final throw of the night, ending his final preseason game work 6-for-6.
"This is outstanding anticipation. And red zone anticipation is the best kind of anticipation because this is when the windows are going to get tight," O'Sullivan said of the touchdown. "This is an oustanding throw. This is how you get another opportunity to play. Big time touchdown pass."
Mayfield did flash red zone precision this summer, which for Joe speaks to confidence and talent. Mayfield has both, but his consistency is the great unknown.
Again, if you're a film junkie, the link above is worth your time.
---
Join Ira Kaufman and Bucs fans on opening day at the Big Storm Brewing Co. taproom in Clearwater, on 49th St. just south of Ulmerton Road. It's a 1 o'clock kickoff and Ira will be hanging out starting at 11:45 a.m. 
Beautiful covered patio with strong sightlines and audio. Indoors, too! Cocktails, Florida's best craft beer and more.