Offensive Line Is A Reason Kyle Trask Will Back Up Baker Mayfield In Week 1?
August 9th, 2023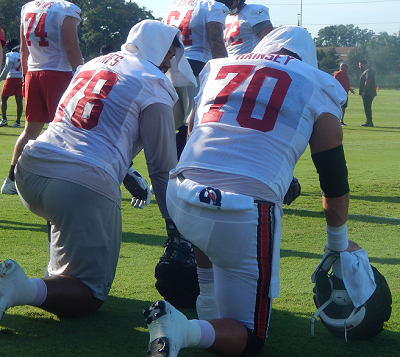 A well-connected former quarterback who went to Canton last week and met with Rondé Barber, and presumably other Bucs officals, came away saying the Kyle Trask-Baker Mayfield competition is real and close.
(For those saying Barber isn't a "Bucs official," Joe saw team president Brian Ford call Barber a member of the Bucs organization last week.)
Joe is referring to NBC Sports analyst Chris Simms, the ex-Bucs QB. He joined PFT Live today and talked about Trask impressing and closing whatever gap existed between him and Mayfield weeks ago.
But what most interested Joe was Simms sharing a reason to start Baker Mayfield in Week 1 against Minnesota is the reality that the Buccaneers' new offensive line may not be a group in sync to start the season.
Simms said the Bucs' mindset might be to roll early with Mayfield while the O-line irons out its rough edges. Then if Mayfield doesn't play well, the team can turn to Trask and he'll have the benefit of a line playing more in sync.
Yeah, it's just a theory (or is it?), but Joe thinks that is highly plausible.
Throwing inexperienced Trask in the fire behind a first-time offensive line — with a first-time playcaller and an offense new to the Bucs — feels like a very bad idea.