More Belief In Baker Mayfield
August 25th, 2023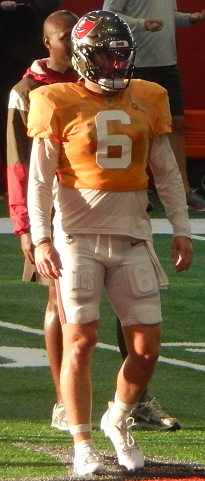 Another former quarterback analyst has joined those singing the tune of Baker Mayfield being very capable of reviving his career in a big way.
Retired Bucs quarterbacks Chris Simms (NBC) and Shaun King (VSiN) have said Mayfield has the skills and they wouldn't be surprised if he thrives in Tampa.
Now throw in another former Bucs QB, Dan Orlovsky, who explained on BSPN this week why Mayfield absolutely can be this year's Geno Smith, who made the Pro Bowl and completed 70 percent of his passes last season.
"This how [Mayfield] would have to do it. No. 1, and this is what Geno did great last year; take the free and easy completions that this offense is going to build in," Orlovsky said. "That's different than play-action. The bootleg game, to his right and to his left, getting his hips fipped. And No. 3, he's got to own the play-action game. … That is a foundational aspect of this offense. You gotta be great with the easy ones, own the movement game and master play-action."
Regarding play-action, the BSPN feature focused on the Bucs having the NFL's lowest percentage of play-action plays last season — while Seattle has led the league in play-action over the past 10 years. Seattle, of course, is where new Bucs offensive coordinator Dave Canales spent the past 14 years.
Also chatting about Mayfield was former NFL defensive back and personnel executive Louis Riddick.  He is dialed in on Mayfield's inconsistency. If that's not fixed, per Riddick, Tampa heads are sure to roll.
"Flash players get you fired," said Riddick, explaining that's something Bill Belicheat taught him.