Is Todd Bowles In A Hurry To Name A QB?
August 9th, 2023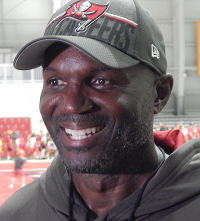 Joe pays attention when Leger Douzable talks Bucs because he played defensive tackle for Todd Bowles with the Jets and he is the pride of Alonso High School in Tampa.
He's not a guy that considers the Bucs an afterthought on a national scale.
Douzable works for CBS Sports and he was on SiriusXM NFL Radio yesterday as a co-host. There he referenced talking to Prickly Pete Prisco, the CBS Sports insider, after Prisco's recent visit to One Buc Palace.
He said Prisco told him of Kyle Trask outplaying Baker Mayfield on the practice field over multiple days. And then Douzable said he's confident neither Trask nor Mayfield is the future franchise quarterback of the Bucs. (Hmmm, did someone at One Buc tell that to Prisco?)
Douzable also noted playing for Bowles and that he's certain Bowles wants to name a starter right after the Bucs' second preseason game.
Douzable painted the Bucs as a team stuck between a rebuild and push for the postseason — too much talent but not enough at quarterback, or cap room to buy more players. But he sees the Bucs as capable of finding their way to winning a poor division.
Joe wholeheartedly agrees that Bowles doesn't want the quarterback competition to linger, but Joe also sees no reason to say Mayfield or Trask can't be a Bucs franchise QB. All either has to do is play reasonably well.
Heck, if Mayfield or Trask can play solid football, Joe thinks either could be as good or better than Derek Carr over the next few years.