Inside Rondé Barber's Hall Speech, And The Bucs Almost Cutting Him
August 5th, 2023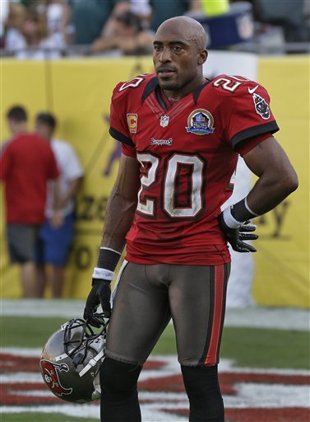 It's Rondé Barber's day to be enshrined in Canton, as Joe wrote earlier. Barber had quite a road to get there, including almost getting cut by the Bucs.
SiriusXM NFL Radio has all kinds of Hall of Fame weekend coverage and a Barber interview was part of it.
When he makes his enshrinement speech this afternoon, Barber said he'll have plenty of thank yous but also a message of work ethic.
"I had to work harder for my success," Barber said.
Barber knew he wasn't the greatest athlete in the NFL, or the biggest most powerful guy, and he acknolwedged being slow to get up to NFL standards at cornerback — and also slow to be recognized as the great player he was. The chip on Barber's shoulder could be heard through the airwaves.
"Always been frustrated" is how former Bucs front office man and general manager Mark Dominik described Barber. Dominik was not the guy interviewing Barber, but he was chiming in on Barber's career during a different show.
"We almost cut Rondé Barber," Dominik said, recalling the early months after Barber was drafted in Round 3 of the 1997 NFL Draft. "I remember some of the meetings, because we had a couple of corners and Rondé was starting slow.

"And quite frankly, if he had been fifth- or sixth-round pick, I think we would have let him go and tried to put him on the practice squad. We did that with Al Harris, and we were wrong. Al Harris went on to have a great career, too. [Rondé] was so inconsistent."
Harris, as ancient Bucs fans will remember, was a Bucs sixth-round pick at cornerback in 1997, same year as Barber. He never played a game for Tampa Bay but had a 13-year career with two Pro Bowl trips on his resume.
(Man, that regime was damn special when it came to drafting defensive backs.)
Dominik went on to praise Barber for his in-game instincts, which Dominik said were at a true all-time-great level. And he likened to Barber to Lou Gehrig, the historic New York Yankees ironman.
Dominik tried to explain how unimaginable it is for a full-time cornerback to play 200-plus consecutive games like Barber did.