Devin White Talks Adjustments And Playmakers
August 1st, 2023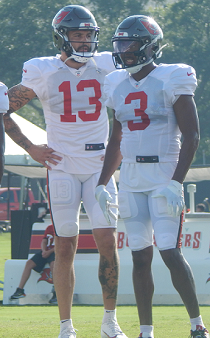 Joe was pleased to hear Devin White talk about what most defensive coordinators when they prepare for the Bucs.
Whatever Joe and fans think the Bucs offense may be or become this season, Joe never loses sight of the Bucs' strength revolving around their beastly receiving duo, Mike Evans and Chris Godwin.
They're the two best receivers in team history and (Sorry, Keyshawn, Joe is going there) they're a versatile nightmare for opponents. The Bucs may have explosive players in Rachaad White and Russell Gage, but that's hope versus the reality of Evans and Godwin.
Joe asked White for his impressions of the new Bucs offense and he pointed toward what new playcaller Dave Canales was a part of with the Seahawks last year. Still, White came back to the special talent, as most players do.
"When we played Seattle, we had to do a lot of adjusting. They did a lot of things that kind of keep you on your toes, and I see that early from our offense," White said. "Man, just having our explosive playmakers all around the field, I think that's always going to give us an edge going into any game."
Also worth noting is the big money the Bucs are paying Evans and Godwin. As much as the Bucs want to run the ball, they also should be targeting 2,500 yards and at least 17 touchdowns combined for their star receivers.
If those stats aren't hit, the offense probably is struggling to be an average NFL unit.