Bucs Shift To One Practice Against The Jets
August 14th, 2023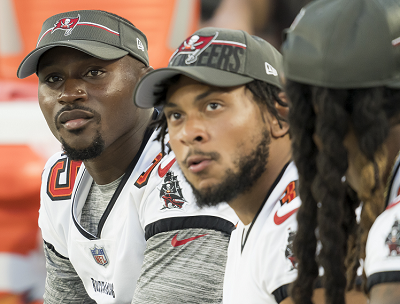 What was to be two valuable joint practices/scrimmages against the Jets in New Jersey this week has turned into one.
Tampa Bay travels tomorrow but only will clash with the Jets on Wednesday. Thursday's session together was canceled and the Bucs will practice alone and away from the Jets' practice facility, likely at a nearby high school field.
The Bucs will have Friday off and then play Preseason Game 2 against the Jets at MetLife Stadium on Saturday night.
Todd Bowles said today that the Wednesday practice is more valuable than the preseason game because the practice will have first-teamers opening up the playbook on both sides of the ball.
The preseason game is more for young players and staying vanilla — so future opponents don't see what you're doing, per Bowles.
It will be interesting to see how Bowles handles the QB position on Wednesday. Joe expects Baker Mayfield to get the majority of first-team work.
Last year, the Bucs had four practices with/against other teams. Two with the Dolphins in Tampa and two in Tennessee. Joe very much apprecieates the awesome lunch and desserts the Titans served up to media.