Bucs-Jets Practice Notes & Nuggets
August 16th, 2023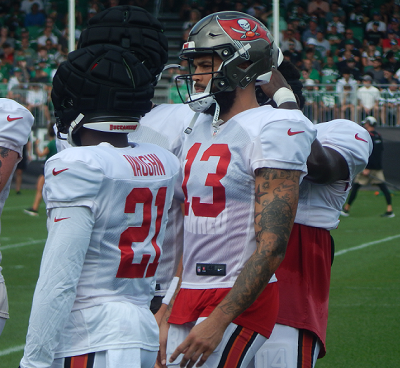 Feisty session at Jets headquarters against an ornery Jets team before a raucous crowd lined up to get in hours before practice began. Joe patrolled the grounds and has plenty of notes as the teams practiced on two fields, sometimes three. There definitely were Bucs standouts, including competing Kyle Trask rising from the ashes after a rough start.
*The Bucs are focused on the run in their first offensive session in 11-on-11. Kyle Trask is at the command and Rachaad White runs left for a yard. Lots of barking from the Jets defense and that didn't let up all day.
*A hole! White runs between the space opened up by Tristan Wirfs and left guard Matt Feiler. Joe will call it a seven-yard gain. There's plenty of hitting but tackling to the ground is not happening in this period, so exact yardage isn't possible.
*Trask fires short and inside on 3rd down into the chest and hands of Jets linebacker C.J. Mosley. He can't hold on; the ball pops up and Mike Evans grabs it!
*Receiver Deven Thompkins takes a handoff and tries to get to the right edge. Play is blown dead after he's tracked down behind the line of scrimmage.
*Trask to receiver Taye Barber for 5-yard gain and a little YAC.
*In comes Baker Mayfield, now with the second unit. He rolls right and throws to a tight end for no gain.
*Swarming Jets defense! Undrafted rookie Sean Tucker takes a handoff left. He runs wide for no gain.
*A strike from Mayfield to undrafted rookie receiver Rakim Jarrett over the middle for about 10 yards.
*First team returns with a White run left for no gain. Robert Hainsey is blown back on the play.
*Cody Mauch! The rookie left guard pancakes Jets big-money defensive tackle Solomon Thomas while White ran up the gut for 7 yards. Bucs coaches loved that one.
*Fumble! Trask throws complete for 5 yards to Jarrett who coughs up the rock when hit.
*Sharp slant from Trask to Chris Godwin for 10 yards.
*So before the 11-on-11 session, the Bucs offense was working against the Jets in 7-on-7. Baker Mayfield started the period and threw to Trey Palmer but the pass was broken up by cornerback Javelin Guidry. Mayfield hit Godwin short and then threw short to the left complete to Russell Gage. The pass was low and Gage caught it and gently was shoved to the ground. He didn't get up. Joe has written all about Gage's serious knee injury on the home page. The teams agreed to stop playing on that field and the 7-on-7 period ended, but the action continued on another field.
*The Bucs' first-team defense came out in 7-on-7 against Aaron Rodgers and friends — and a jacked up Jets crowd. Joe was watching the Bucs offense (see above), but Joe couldn't ignore the defense because of the cheers by Jets fans. It was big play after big play early. Joe's first view represented the third big crowd cheer: Ryan Neal and and Carlton Davis were beaten deep by Jets receiver Irvin Charles (per Joe's view). That play was followed by two more completions. Again, it's 7-on-7.
*11-on-11 sees an early fight for the Bucs defense, with Lavonte David at the forefront after he snuffed out a run to the left that netted maybe a yard.. After the skirmish, Devin White has a 1-on-1 chat with Aaron Rodgers that ends with a joint laugh.
*Back to the offense, Trask gets the ball in 11-on-11 and is sacked by Quinnen Williams. Move Kyle, Move!
*Trask has another near pick on an over-the-middle, medium-range throw. Not unlike the near-pick referenced above, the Jets defender can't squeeze it.
*And another fight breaks out.
*White up the gut lowers his shoulders and head and pops the helmet off Jets safety Tony Adams for a six-yard gain.
*Back-to-back hard running by Ke'Shawn Vaughn. There's Mauch again opening a nice hole on one of those runs. Mauch is really finishing blocks today.
*Another fight. Center Nick Leverett threw two punches at a Jets players' head. Why do that with a helmet in the way of the guy's dome?
*White runs right for four yards. Strong series for the O-line.
*Baker Mayfield returns and goes play-action deep to Mike Evans. He was double covered and the ball was safely overthrown. First Bucs deep shot of the day.
*After a nothing-special run and an incompletion, Kyle Trask returns and gets sacked after Jets' linebacker Jermaine Johnson bull rushed Luke Goedeke into Trask. (Move, Kyle!)
*Mauch plants another defender into the ground on a solid running play.
*Trask to a tight end, short left for 5 yards.
*Tucker runs left with a lot of juice and wiggle but the Jets linebackers and defensive backs suddenly start playing touch football. Play quickly blown dead. Seems like an order came from coaches.
*False start, Bucs.
*Joe's not writing about the third team, but QB John Wolford continues to look sharp. He hit rookie Trey Palmer perfectly on a crossing route for 15 yards. Palmer's speed was on display.
*Mike Evans and Jets stud defensive tackle Quinnen Williams have a long chat during the break, seemingly about fighting. Evans got hot earlier and stayed hot. (Story on home page).
*Every time Joe looks at the Bucs defense, Joe can't help but dial in on Devin White looking fast and Shaq Barrett looking like Shaq. The Bucs sacks king was very pleased after practice about how good he feels. Joe already wrote about Joe Tryon-Shoyinka having his best practice of the summer (home page story), and the pressure was there consistently. Joe focused in on Vita Vea for a few snaps and Vea looked effortlessly stout against the run and pass.
*After a run by the Bucs offense, Baker Mayfield throws short left to Kaylon Geiger.
*Palmer breaks up a potential Mayfield interception. Palmer and Mayfield clearly out of rhythm on a 20-yard seam pass. Jets cornerback Bryce Hall turned and broke quickly on the ball. Incomplete.
*Trask and the Bucs offense flash back to Friday night. Rachaad White run up the gut for little yardage. Followed by Vaughn up the gut and then Trask throws incomplete with no receiver near the ball.
*Joe Tryon-Shoyinka spotted winning on an inside move forcing an Aaron Rodgers throwaway.
*Rodgers flushed on next play but a good four-man rush. He threw a fancy lookaway pass complete on the run but refs already had blown the play dead.
*Trask returns and saves his day, figuratively speaking. Trask throws two short balls to tight ends and then comes to the line for third down. Trask changes the play at the line of scrimmage and found the correct call. He sent a 50 yard bomb to Palmer down the right seam with All-Pro Sauce Gardner in coverage. It's a catch! Palmer went down about the 7 yard line.
*More fighting. Luke Goedeke seems to be hated by opponents on the level of Ryan Jensen.
*Trask to Geiger for a first down on a slant. Sharp throw.
*Drop! Cade Otton from Trask on a short route near the left sideline.
*Trask follows an incompletion with a six-yard throw to Otton.
*DEE-Fense – Shaq looks damn good chasing down a wide receiver screen. Antoine Winfield flashes in coverage over the middle. Jamel Dean is beaten by Randall Cobb for 25 yards.
*Rodgers ends his day with an incompletion, followed by a quick out for 4 yards and a no-throw after Vea broke down the pocket in a hurry.
*Mayfield has a strong finish with the second team. Complete to Barber followed by a sweet back shoulder throw down the left sideline to Palmer. Great precision by both of them. That play jacked up the Bucs bench.
*Mayfield came back with a short completion followed by Ke'Shawn Vaughn finding a hole between left guard Aaron Stinnie and tackle Justin Skule. Two more plays saw Mayfield throw incomplete and throw a ball away to avoid pressure.
*Mayfield and former Bucs QB Mark Sanchez spoke near the end of practice on the field, and while Mayfield shot down Joe and other reporters seeking a chat, he had no problem talking shop with ESPN insider Adam Schefter.
Tristan Wirfs & Luke Goedeke Work On Their Pass Blocking Sets