Baker Mayfield Is Losing Ground
August 2nd, 2023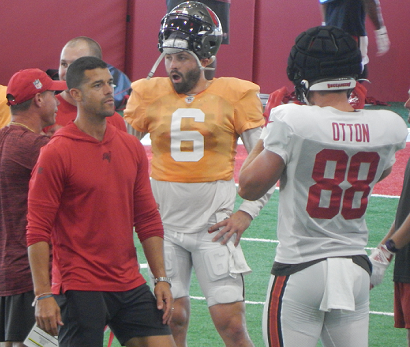 Whatever giant-sized lead Baker Mayfield had entering the quarterback battle in training camp, it's been cut significantly after six practices. (Today is a day off.)
The Bucs had another practice last night inside the Glazer Shed, and if you're scoring with the eye test, it was another loss for Mayfield to competing Kyle Trask.
Earlier in the day, Buccaneers offensive coordianator Dave Canales made it clear to media that Mayfield won the first two days of training camp because of how he was running the offense. It was as if Canales tried to deliniate that Mayfield won more on preparation and execution than perofrmance.
But Canales also emphasized that the competition tightened from there and, like many players have said, Trask moved his needle significantly in the right direction this week (practices were Sunday, Monday at last night).
Joe simply sees Trask as the better performer lately, but what has Joe a little queasy is that Joe can't say the QB play looks special overall.
Joe gets that some fans are glued to social media and various corners of the Internet that offer nuggets from practice. Much of it is misdirection because the defense doesn't get to come after the quarterback full force. That reached a fever pitch last night with all kinds of good plays by the offense not really being good plays.
Perhaps the greatest example was Mayfield throwing a bomb to Deven Thompkins that he skied for and pulled in. Great catch about 45 yards downfield. However, Mayfield had a guy in his face that put his hands down (sort of a self-hug) to avoid hitting Mayfield in any way. Mayfield got a bit of a hip tap anyway on the throw, which was just evidence of how badly he would have been crushed if the football was real.
It's frustrating for Joe when it comes to evaluation.
Still, Trask is improving steadily. That's crystal clear. Mayfield? He's not.
The dynamic of the quarterback battle can change daily, but Joe's starting to think the first preseason game and the two joint practices with the Jets will be weighted far more heavily by management than they originally planned.