"You Gotta Ride This One Out"
July 3rd, 2023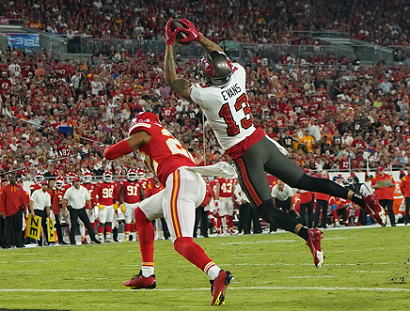 There's been chatter that the Bucs and the greatest receiver in Tampa Bay history, Mike Evans, are discussing a fat contract extension.
There also is buzz that Evans could be gone quickly if Halloween approaches and the Bucs stink and are hungry to stockpike draft picks for a rookie QB in 2024.
Of course, both scenarios could play out.
In the event the Bucs have a miserable start and Team Glazer orders a Code Caleb, Evans likely would command more in a trade if he's locked up for the next four years. This year's trade deadline is the afternoon of Oct. 31.
Just thinking of this makes Joe ill. Losing is painful and losing a living legend like Evans would be a punch in the gut because he remains a damn good player.
Greg Jennings was a standout receiver for  seven years in Green Bay. Like most thinking people, he's a Mike Evans fan and he said Evans is too consistent for the Bucs not to cling to him for years to come.
"You gotta ride this one out," Jennings said in his role as a The33rdTeam.com analyst. "Because he's shown you everything of who he is and what he is in this league. It's just a matter of now making sure, ensuring that he has somebody under center that can just allow him to be Mike Evans."
Joe agrees with Jennings. Evans is excellent and would be a great asset for any Tampa Bay quarterback, rookie, veteran, etc. And as a teammate and a community member, Evans is exactly the guy you keep, not trade.
However, the presence of stud receiver Chris Godwin could complicate a future Bucs decision. He's a forever-Tampa-Bay kind of guy, too, and three years younger than Evans.
Joe sure hopes everything plays out well and Evans can finish his career in Tampa and then run a go-route directly into the Pro Football Hall of Fame.
"He's still Mike Evans, man. He still can make plays," Jennings said.