YaYa Diaby Talks Speed, Shaq Barrett Lessons
July 28th, 2023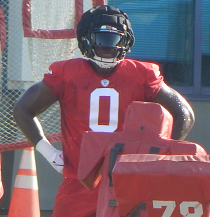 After three days of his first NFL training camp, third-round pick YaYa Diaby is feeling like his learning curve isn't steep.
Joe was damn happy to hear it.
The Buccaneers likely need a better edge rush to win the NFC South and team offiicals certainly hope freakish athlete Diaby is a part of that.
Diaby told Joe that things are coming quickly.
"I definitely feel like my speed has adjusted to the new NFL. You feel me?" Diaby said. "I'm just happy that I'm the guy that I expected to be in this league, and I'm just taking it day by day."
Diaby clarified to say he hasn't hit a road block yet and feels he's been showing very well in camp.
A guy helping Diaby reach his potential is Bucs sacks king Shaq Barrett. He was home with family and rehabbing nearly all spring, but Shaq already has made an impact on the rookie.
"The guy knows it all. Like he's teaching me my approach to a tackle," Diaby said of Shaq. "He's teaching my my alignment and where I need to be to a tackle, and different things working my hands. Shaq has been 'the guy' for me."
The big tests for Diaby are coming soon — when pads come on next week and real football begins.