Quality Couch Depth?
July 24th, 2023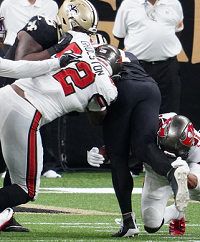 Lots of new faces on the Buccaneers' defensive line this season, including free agent tackle Greg Gaines from the Rams and first-round pick Calijah Kancey.
Second-year man Logan Hall is destined for much more playing time, too. And all three of those guys will be replacing veteran defensive tackles Will Gholston, Akiem Hicks and Rakeem "Nacho" Nuñez-Roches.
Nacho got big money with the Giants but Gholston, 32, and Hicks, 33, remain unemployed.
Joe considers Gholston and Hicks to be quality "couch depth" for the Bucs, as in they'll jump if called from the couch to join the team in the event of an injury.
Back at the NFL owners meetings in late March, head coach Todd Bowles had vigor in his voice when he talked about Hicks being an option for the Bucs to bring back this season.
Gholston hasn't retired and he's a true pro who hasn't missed a game since the 2017 season. He also lives in Tampa has stated he wants to rejoin the Bucs.
Joe suspects both Hicks and Gholston had minimum offers from other teams but are deciding to wait for more more cash or a better personal situation. Each has made a tens of millions of dollars in the league.
For Gholston's sake, Joe wishes the 10-year Buccaneer had a job. But Joe also feels great about the Bucs likely having Gholston and Hicks as an option if something very ugly happens, which happened to Tampa Bay last July at the center position.