Mike Evans Holds Steady With Annual NFL Network Top-100 Ranking
July 29th, 2023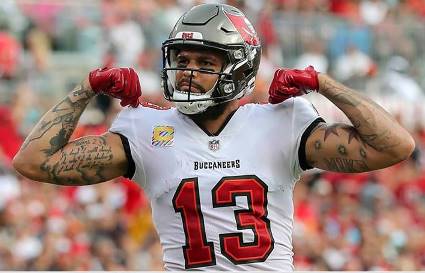 Mike Evans, the greatest receiver in Buccaneers history, is known for his historic consistency, so his annual NFL Network Top-100 ranking was quite fitting.
Evans ranked No. 53 for the 2023 season, the same spot he held last summer.
The annual feature began Monday and players when ranked 91-100 were released. Tristan Wirfs checked in at No. 98 after being No. 41 last summer. No other Bucs have been named to date. Nos. 1-50 will be named in the coming days.
Per NFL Network, player voting determines the rankings. It's been previously that starters on teams are given ballots but not all fill them out. In past years, NFL Network has reported it gets about 20 votes per team.
In Evans' feature, Seahawks Pro Bowl cornerback Tariq Woolen gushed about Evans' having sneaky numbers and being big, tall, physical and consistent. Browns edge rusher Myles Garrett raved about Evans' consistency and how he wants the tough throw.
"I think he loves contested catches more than open catches just cause it sets a tone like, 'No matter if you're like, you're on my hip, I'm going to catch this anyway. There's nothing you can do about it," Garrett said.
Bucs cornerback Jamel Dean also was featured, noting some of Evans' best moments and talking about what a challenge Evans is in practice.
Well deserved, Mike!
A Deep Dive Into Day 3 Of Training Camp, Various Player Comments, Trey Palmer Struggles, Ira Checking In On Todd Bowles And The Quarterback Battle, And More