Hurdle Cleared For David Moore
July 24th, 2023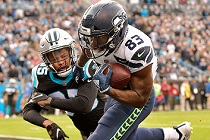 With Buccaneers veterans reporting for work tomorrow — first training camp practice on Wednesday — Joe feels great about a potential X factor of the 2022 season.
Joe's referring to one of the forgotton Buccaneers, free agent wide receiver David Moore, who was signed in mid-May.
It was a no-risk signing of a player with a proven history (18 starts including postseason), and he likely has gas in the tank at 28 years old.
The former NFL touchdown maker caught 13 TDs for Seattle through the 2018, 2019 and 2020 seasons. Since then, Moore has had five teams, no catches and one arrest after allegedly falling a sleep in his Ford truck in a Texas Taco Bell drive-thru. Police claimed sleepy Moore smelled like marijuana and had three pistols with him during his late-night food run.
A seventh-round draft pick of Seattle in 2017, Moore was coached there by Bucs offensive coordinator Dave Canales. Moore moved on to the Panthers in free agency (2021) with a multi-year contract, but he was cut before the regular season started.
Making it through the spring on a new team is a huge step for a veteran like Moore with a stained history. (Just ask Tyler Johnson). Usually, those guys don't stick unless they are model citizens and flash the talent they once showed in real action.
Joe is not counting on Moore, but how many times in recent years have good Bucs teams relied on their No. 4 or No. 5 receiver? The answer is "many times." And Joe isn't sure rookie sixth-round pick Trey Palmer is ready for prime time.