Hall Of Fame Voters Are A Party To Shameful Mike Evans Snub
July 11th, 2023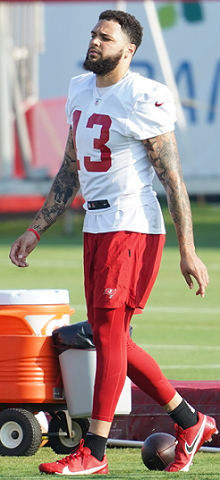 Welcome to a first-hand look at the uphill climb Mike Evans might have to get into the Pro Football Hall Of Fame.
Joe wants to smash a few windows.
This is almost too disgusting for Joe to share.
The33rdTeam.com website has a ton of big football names contributing to its media project. Rondé Barber, Bill Parcells, Bill Polian, Mike Tanenbaum, Leonard Fournette, Ed Reed, Cam Jordan and Bill Cowher are just some of the names. Heck, they even had an exclusive sitdown with Bill Belicheat not too long ago.
However, the site hasn't grown to be very popular (at least compared to this site) and now they're officially on the JoeBucsFan.com naughty list.
Longtime Hall of Fame voters contributors Vic Carucci, Paul Domowitch, Clark Judge and Barry Wilner contribute to The33rdTeam.com, and they were a party this month to a horrible slight of Evans.
The site puliblished a piece listing current players that are either locks to make the Pro Football Hall of Fame one day, or "likely" or "potential" Hall of Famers. In included commentary from the aforementioned sportswriters. A total of 28 players made the cut, but Evans did not. (Don't get Joe started on Lavonte David, who also was not mentioned.)
Joe had to chuckle at the comment supporting Raiders receiver Davante Adams, who was listed as a potential Hall of Famer. "… game-breaking receiver who proved last season he didn't need Rodgers throwing the ball to be impactful." Um, what about Evans catching balls from Jameis Winston, Mike Glennon, Ryan Fitzpatrick and Josh McCown?
For Joe this reveals how Evans' road to the Hall won't be smooth unless he can pump out a few more strong seasons.
Every receiver that has hit the 100 touchdown catches plateau already is in the Hall of Fame except for one: Larry Fitzgerald, and he'll be there when he becomes eligible. Evans has 81 TD catches; Adams has 87. Both were drafted in 2014.