Do Bucs Players Know Who Todd Bowles Is?
July 5th, 2023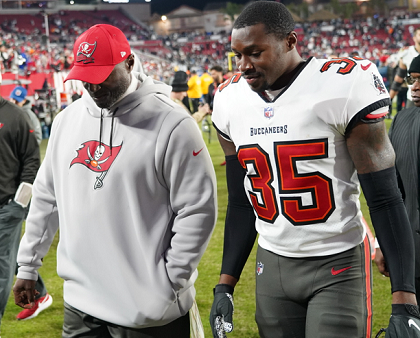 Joe was surprised while listening to one of the NFL's better head coaches this week.
That would be Mike Vrabel on The Official Titans Podcast.
Vrabel played 13 seasons for Pittsburgh, New England and Kansas City. He's got three Super Bowl rings and had fantastic years for the Belicheats as an edge rusher. He retired after the 2010 season and got into coaching.
As Tennesse Titans head coach, Vrabel has a 50-37 record that includes two playoff wins.
Vrabel said half his players don't know he played the game. The podcast host didn't buy it and pressed Vrabel on the comment. Vrabel suggested the podcaster talk to players and ask them. He was admant that only half would know that he ever played in the NFL.
Joe heard that and thought of Todd Bowles. He played eight seasons as a defensive back and wrapped up his on-field career with the Redskins in 1993, a couple of generations before Vrabel did.
So do Bucs players know Bowles was a quality player who won a Super Bowl? Joe knows many defensive players know Bowles played in the league, but beyond that, Joe can't be sure.
Players claim to love playing for coaches who actually played the game. That status commands an instant level of respect, they say. So Joe was surprised to hear Vrabel admit his players don't know his background.
Bowles certainly can use every advantage he can muster because he needs wins in a hurry, so maybe it's time for Bowles to have a little fun and show players clips of his 15 career interceptions early in training camp.
Joe is all in favor of anything that could spark the Bucs in any way.