"You're Not Handcuffed"
June 16th, 2023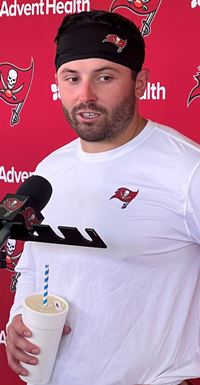 NFL Network found an upbeat Baker Mayfield this week, a man appreciative of his new offense under first-time playcaller Dave Canales.
Mayfield didn't hold back. He likes the quarterback freedom of decision-making in the offense
"[Canales] gives us the keys eventually to be able to check things at the line of scrimmage and have answers. You know, you're not handcuffed at the line of scrimmage," Mayfield told reporter Sara Walsh. "We're able to use weapons, and if there's a good matchup, take advantage of those things. … The difference in this offense is we always should be able to get to a good play."
Soooooo, did Mayfield play in offenses that didn't allow him to check to a better play at the line of scrimmage? It sure sounds that way. Joe has heard various analysts talk about the "quarterback-unfriendly" offenses Mayfield has played in.
It's not just the Tampa Bay offense that Mayfield appreciates.
He said this has been "my first true offseason since 2019," and "it's been extremely beneficial to be here the whole time."
Mayfield lost traditional offseasons the past three years because of COVID, injury and getting traded, respectively.