Waiting On "Open" Training Camp Practices Announcement
June 16th, 2023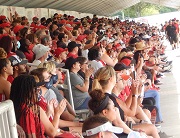 In recent summers, Team Glazer and Bucs management decided to lock out the common man from the common training camp practice.
If you weren't part of an invited group or a season ticket holder, you couldn't attend.
Joe was appalled because it did not have to happen.
The Bucs had the opportunity to open at least one training camp practice to the average Joe. (Heck, some practices were open to media only.) The team also could have held a practice at the Stadium on Dale Mabry Highway, aka The Licht House, as it had done many times in past years.
Bucco Bruce Arians had an annual stadium practice during his Arizona years and Todd Bowles did the same during his years with the Jets. So please don't try to sell Joe on coaches being unable to handle that.
(In fact, Arians did hold a practice at The Licht House once. But it was in 2020 during The Sickness and it was only open to media; closed to the public.)
The Bucs have not released 2023 training camp information yet, so let this post serve as a reminder that Joe is pacing the hallways of JoeBucsFan.com world headquarters in anticipation.
The Bengals, a popular team, and the Bills, a very popular team, each have announced a double-digit number of practices accessible to the general public. And most NFL teams have "open" dates.
Joe sure hopes the Bucs do the right thing this season.