Tristan Wirfs' New BFF
June 10th, 2023
Forget what Baker Mayfield has done in underwear football. His smartest move came a few weeks ago.
It seems like Mayfield is getting the hang of being a Tampa Bay resident. He's been seen at Rays games and he's building friendships in the Bucs' locker room.
And it seems one of his best bros is none other than the guy who is expected to keep Mayfield on his feet. That would be left tackle Tristan Wirfs.
Last week after underwear football practice, Wirfs talked about the developing friendship between the Bucs' quarterback and the former All-Pro right tackle.
"It came pretty organically," Wirfs said. "I think he asked me to go out to eat one day and I said, 'Sounds good. You're speaking my language.'

"We've hung out a little bit. I got to meet his wife. We all went out to dinner. We've gone out to dinner I think every week."
This continued last night when Mayfield and Wirfs (and Ko Kieft, too) were spotted together at the Fruitdome watching the best team in baseball, the Rays, thrash the Rangers.
"I love Baker," Wirfs said. "It's been a short time. I know we are going to get along fantastic. Our relationship has been good so far. I'm really excited."
This is a savvy move by Mayfield. If he gets Wirfs on the same page, you watch, the rest of the offensive line will fall into place. The younger offensive linemen already look up to Wirfs and heed his words.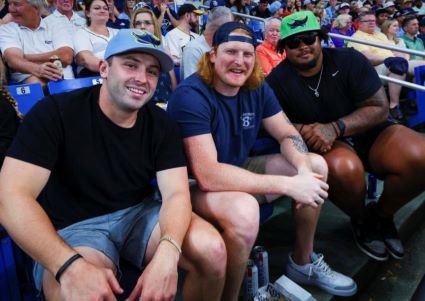 Baker Mayfield and Tristan Wirfs are spending a lot of time with each other. Tonight they're here at the #Rays game together. Trask doesn't have a shot.

— Aaron Jacobson (@JacobsonOnAir) June 10, 2023