Tougher Sledding For Rachaad White
June 20th, 2023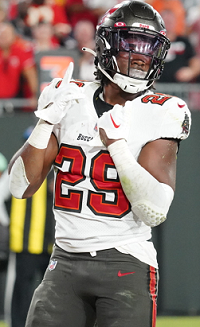 As New York Giants star running back Saquon Barkley fights for a new contract, Joe keeps hearing about how the Giants often face "stacked boxes," as in eight defenders in the area roughly a few yards off the line of scrimmage.
Barkley, per NFL NextGen Stats, saw the 8-man box on 18.98 percent of his rushes last season.
Hey, that's Rachaad White territory! The Bucs' new No. 1 back saw a stacked box on 18.6 percent of his carries in his 2022 rookie season.
However, Barkley's volume of tough looks is exaggerated. He ranked 29th in the NFL when it came to seeing a stacked box, meaning 28 guys had it rougher. White ranked No. 32.
Most interesting to Joe were the numbers of four other running backs.
The first is Leonard "Playoff Lenny" Fournette. He saw a stacked box on 22.22 percent of Bucs snaps last season. That was 19th-toughest in the NFL. The second to grab Joe's interest is Seattle top-dog rusher Kenneth Walker, their star rookie last season.
Walker ran in the run-friendly, run-first offense new Bucs offensive coordinator Dave Canales is installing. Walker saw a stacked box on 21.49 percent of attempts, 21st in the league.
Also on Joe's radar was the rushing juggernaut in Atlanta. Rookie Tyler Allgeier led the league seeing stacked boxes on a whopping 40 percent of his carries. Allgeier grinded out 4.9 yards per carry and 1,035 yards.
Cordarrelle Patterson, now an afterthought running back in Atlanta after the team just made manbeast Bijan Robinson a first-round pick, saw stacked boxes 36.8 percent of the time. And Patterson hammered out 4.8 yards per carry and 8 touchdowns on the ground.
Joe has no doubt White will get different looks and more attention than he's used to early this season.
Man, Joe sure hopes White, as well as the Bucs' blocking and playcalling, find immediate improvement.