Tom Brady Says He's Still Following The Bucs
June 1st, 2023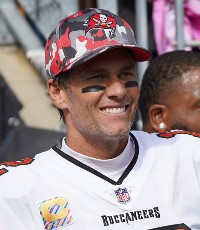 Joe is glued to the radio listening to The Rich Eisen Show interview of Tom Brady that's happening right now on SiriusXM Channel 992.
Will Brady talk about the Bucs? So far, he has gone there a little.
Brady said he continues to follow news and transactions of "all the different teams that I've been a part of to follow them." Joe laughed when Brady said, "all the different teams." Does that mean he's following the Dolphins and Raiders, too?
Brady reinforced that he's done playing in the NFL, but he said he can still sling it.
"I can still do that I'm just not going to do that competitively," Brady said, adding "I'm definitely tired of getting hit."
The names Mike Evans and Chris Godwin came out of Brady's mouth, but it was only Brady reflecting about living a charmed life throwing to superstar receivers.
Ira Kaufman Talks Practice Impressions, Addresses A Player's Media Complaint, Jon Gruden As Head Coach Of The Saints Next Season, Tom Brady Not Being Missed, And Much More