Sacks Story To Change With Mayfield's 7 Percent
June 26th, 2023
BY IRA KAUFMAN
Nothing hacked Tom Brady off more than coming up short on the football field.
He was disappointed, devastated and distraught after every setback, knowing he had to wait a week before an opportunity for retribution. If losing was No. 1 on his must-to-avoid list, taking a sack ranked a close second.
Whether he was sailing a ball deliberately out of bounds or firing one into the ground, Brady was a master at frustrating the league's premier pass rushers. And that knack for avoiding the sack will prove challenging for his successor this fall.
For each of Brady's three seasons in Tampa, the Bucs ranked among the league leaders in sack differential, often a key metric for success. Part of that equation has been the consistency of the Buc pass rush since Todd Bowles arrived in 2019.
Here's the sack breakdown for the Bucs during the Brady era:
Year        Sacks allowed      Sack registered
2022                22                        45
2021                 23                        47
2020                22                        48
When you consider Brady threw the most passes in the league during each of the past two seasons, the numbers are even more impressive. It's easy to forget Buc quarterbacks were dropped at least 40 times in each of the three seasons preceding Brady's arrival.
Although NFL coaches routinely talk up the impact of QB pressures, sacks tend to be drive killers. Facing third-and-16 shrinks your offensive playbook and emboldens opposing defenses. It's difficult to keep the chains moving after your quarterback has hit the ground with the ball still in his hands.
Brady's mastery in avoiding the sack was evident well before he reported to One Buc Place. His career sack percentage (4.48) ranks eighth all-time, with Peyton Manning presiding at the top.
In contrast, Mayfield has been sacked on 7 percent of his pass attempts, ranking No. 104. And don't forget, he operated behind a solid offensive line during his stint in Cleveland.
By the middle of last season, it was apparent Brady didn't trust his guys up front. His typically fast release became even quicker in an effort to avoid being hit. That's an understandable protection racket when you're a relatively immobile 45-year-old quarterback trying to survive.
Mayfield is far more likely to hold onto the ball and seek a big play downfield. That should lead to more long completions and more sacks than Buc fans have grown accustomed to.
Spreading The Wealth
That plus-73 sack differential covering the past three seasons has helped the Bucs win a lot of football games. Besides Brady's knack for avoiding the sack, it is a tribute to the confusing looks Tampa Bay's defense displays under Bowles.
For example, the 2022 Bucs featured eight defenders with at least three sacks. That's called spreading the wealth, a necessity when you consider Shaq Barrett missed half the season.
The NFC champion Eagles, who finished with 70 sacks and threatened the league's single-season mark (72) set by the 1984 Bears, saw only six players post at least three takedowns.
Sack differential matters.
The Chiefs (plus-29), Cowboys (plus-27) and Eagles (plus-26) combined for a 40-11 record last season and two of those teams met on the NFL's biggest stage. Tampa Bay's sack numbers, 45-47-48-47 have been remarkably consistent since Bowles took control of the defense in 2019.
What changed in a big way the past three years? Check out the sacks allowed column. Buc fans are now accustomed to seeing their quarterback remain upright.
That's a tribute to Brady — and a real challenge for Mayfield and new offensive coordinator Dave Canales.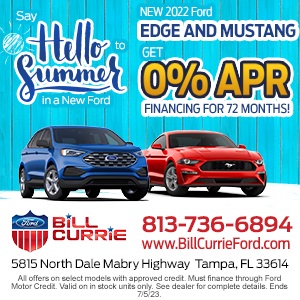 Catch up on the weekend's loaded Ira Kaufman Podcast!