Rachaad White Talks Changes To Bucs Offense
June 11th, 2023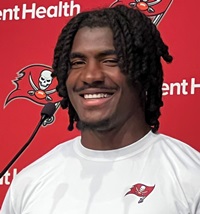 Our beloved Buccaneers kick off Week 1 at Minnesota in 91 short days.
They'll have a new offense, and running back Rachaad White talked about that change recently on Fantasy Football Morning on SiriusXM radio.
Specifically, White was asked what has changed this season under new offensive coordinator Dave Canales and what looks different.
White had plenty to say about life on the field after the Byron Leftwich/Bucco Bruce Arians no-risk-it, no-biscuit model.
Diversity in the run game was among the changes White cited, included "added power" to the run game. (Joe assumes that means more traditional "power" run formations and calls.) What also referenced "a lot of shifts, a lot of motions."
Interestingly, White mentioned the energy of Canales and "him being hands-on with the players." (Was Leftwich rather hands off?)
White added his appreciation for the successful track record enjoyed by his new position coach, Skip Peete. "It's a blessing to get a fresh start, get a new start," White said.
Joe was intrigued by White's comments and, man, one really could speculate between the lines, but Joe won't go there today. White sure seemed happy about the new offense after the 2022 edition of his rookie season.
"A lot of guys really bought in and really like the offense. You see the energy. It's awesome," White said.