"Our Team Is Big On That Right Now"
June 30th, 2023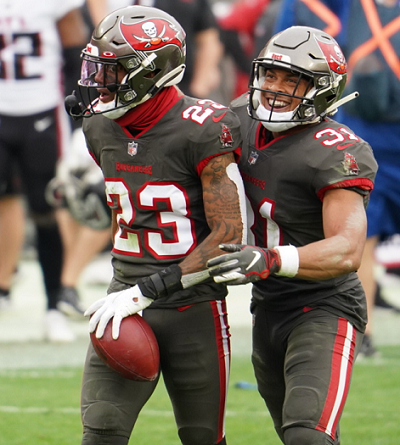 Call it the post-Tom Brady effect.
When a team loses The Goat, it seems its remaining players and coaches get all jacked up about trying to prove to the world that the team is bigger than the legendary quarterback who left the building.
There was a little of that in New England back in 2020, but not a crazy amount. Joe suspects players knew Tom Brady still had greatness in him, plus a Hall of Fame head coach remained in charge, so the watch-us-now attitude was tempered.
Per Buccaneers running back Rachaad White, the Bucs have a huge chip on their shoulders and new quarterback Baker Mayfield carries it with pride.  White was a guest on NFL Network this morning and was asked about getting to know the quarterback, Mayfield, presumed to be the Bucs' next starter.
"Baker brings great energy. He's a great guy. Chip on his shoulder, which are team is big on that right now," White said. "So just being that guy, just being confident, just having the swagger. … Just being a good guy, man, coming in the locker room and changing things up. … Great leadership."
Joe was intrigued by White feeling like the Bucs have the proverbial chip on their shoulder. Perhaps it's because NBC Sports insider Peter King was adamant they will stink badly in 2023. Or maybe it's because sportsbooks are not budging after placing the Bucs' over/under win total at a paltry 6 1/2, worst in the NFC South.
Or maybe it is because the team collectively feels it's being ignored inappropriatly after Brady's retirement. After all, Brady led a 2022 offense that mustered a Glennonesque 18 points a game.