Lifetime Deal For Mike Evans?
June 17th, 2023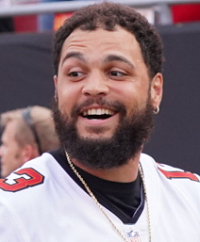 So reports emerged today that Tristan Wirfs and Antoine Winfield, Jr. did the Bucs a favor and reworked their 2023 contracts to help Tampa Bay add/squeeze a few extra million in cap room for this season.
And there's chatter that Mike Evans and the Bucs are each hungry to nail down a new contract for him this summer.
Evans is underpaid and could become a free agent after this season. He turns 30 in August and is the greatest receiver in team history with no signs of slowing.
It's no surprise to Joe that Evans and the Bucs in active talks, per TampaBay.com. Why wouldn't Evans be eager to stay?
He's treated like a king in Tampa and has been here nine seasons. He's also learned that patience can pay off (see 2020).
Joe hopes Evans and the Bucs are talking about a lifetime-type contract, meaning one that could end Evans' career in Tampa. He has proven to take great care of his body, and he's versatile.
Evans can make all kinds of short- and mid-range contested catches, and Joe easily could see Evans successfully transitioning from beastly deep threat to more of a possession receiver later in his career.
Also, the longer Evans' contract is, the more salary cap flexiblity the Bucs would have in future seasons.
As for Wirfs and Winfield, Greg Auman of FOXSports.com reported that each fourth-year player converted to a $1 million contract for this season for cap purposes, and the rest of the cash due them became an instant signing bonus. That means they get a fat Team Glazer check now and the Bucs can spread out that combined $3 million or so on their salary cap over multiple years.
The Bucs may still need more cap room to sign all their 2023 draft picks, and certainly to have emergency money for a veteran if a signficant injury happens this summer.