Bounceback Year For Antoine Winfield
June 12th, 2023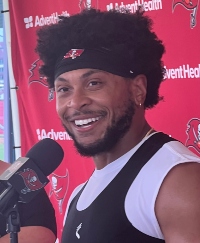 For Joe, the turning point of the Bucs' 2022 season was the debacle in Cleveland.
Coming off their best game against Seattle and a bye week, the Bucs traveled to the struggling Browns (sorry for being repetitive) and Jacoby Brissett. For reasons not fully understood, the Bucs decided to play the game safe (Translation: Keep your opponent in the game).
It was as if the Bucs or the shot-callers on the sidelines were still hungover from too many Augustiner-Bräu Helles in Munich."Sluggish" would be an understatement.
Then, with the game tied late, Tom Brady was moving the Bucs down the field with ease, leading a late drive to victory like he had done so many times.
Then, inexplicably, shockingly, Brady had the plug pulled and the ball taken out of his hands. After the game, it was learned the coaches were scared Brady might throw a pick, even though he entered the late-November game with a grand total of two picks through 10 games. And he hadn't thrown a pick through 98 percent of that Clevleand game.
Play for overtime, the Bucs coaches thought. Brilliant!
In overtime, the Bucs not just lost the game, but two of their best players to injuries: Tristan Wirfs and Antoine Winfield.
The Bucs would go on to lose three of their next six games to close the season with an 8-9 record. Having Winfield and Wirfs miss games sure didn't help, albeit the Bucs won their division.
Winfield was dinged up last year and didn't have his best season, One reason was he played a lot more nickel corner. Another was his concussion.
Jeff Kerr of CBS Sports really believes Winfield is going to bounce back this fall and maybe be better than he was in his 2021 Pro Bowl season.
…Winfield has just four interceptions in three seasons, but opposing quarterbacks have just a 67.3 passer rating targeting him.

A Pro Bowler in 2021, Winfield had 80 tackles, six quarterback hits, four sacks, an interception and three passes defended last season. He's in the conversation as one of the best young safeties in the game, but has the opportunity to become one of the elite players at his position in 2023.
Yes, this is a smart choice. Winfield going back to his original position should result in the same top-shelf level of play he demonsrated in his first two seasons.
This is why some believe the Bucs secondary is damn strong. Joe agrees.
The only thing that concerns Joe about Winfield is his concussions. He missed multiple games in 2021 and in 2022 because of concussions..
Bucs coach Todd Bowles emphasized Winfield was not moved back from nickel to his original safety position to help prevent additional concussions.
Joe doesn't fully buy that. If the Bucs aren't concerned about Winfield's concussions, they ought to be. The Bucs ultimately lost a young stud (Ali Marpet) due to a concussion. They don't need to shorten Winfield's career by being flippant.