An Easy Case For Antonio Brown
June 30th, 2023
BY IRA KAUFMAN
Antonio Brown is at it again, lashing out at a slew of new targets including Tom Brady.
Yes, Tom Brady, who has always had Brown's back and once vouched for him with Bill Belichick. Brown can't help himself. It's always the fault of someone other than the man in the mirror.
His day of reckoning is coming.
Brown will be eligible for the Pro Football Hall of Fame's Class of 2027, a stacked field that also includes Rob Gronkowski, Adrian Peterson, Ben Roethlisberger and Richard Sherman as first-time eligibles.
Gronk, Roethlisberger and Peterson figure to sail into Canton in their first year as finalists. Sherman, a 5-time All-Pro corner who helped Seattle to consecutive Super Bowl appearances, was a key component of the Legion of Boom. He finished his career as a Buccaneer in 2021 and he'll likely have to wait a few years for his Hall pass.
Now we come to the intriguing case of Antonio Tavaris Brown, who turns 35 in a few weeks but often acts out like a child.
By the numbers, Brown should be a no-brainer. From 2013-2018, Brown established himself as the league's premier wide receiver. During those six seasons, an eternity by NFL standards, he averaged 114 catches, 1,524 yards and 11 TDs. He made the All-Decade team and earned first-team All-Pro honors four consecutive seasons.
Nobody could cover this guy and nobody could shut him up, either.
His average of 84.2 receiving yards per game ranks fourth all-time, trailing only Justin Jefferson, Julio Jones and Calvin Johnson. Brown even added four TDs as a punt returner and one score returning kickoffs.
A Gold Standard
Despite starting only three games in his initial two seasons with the Steelers, Brown caught 837 passes through his first nine years — more than Hall of Famers Jerry Rice, Randy Moss and Terrell Owens.
"Brown was on a Hall of Fame trajectory, but he did not sustain it," says NFL historian John Turney. "He derailed it. His peak was high enough, but certain milestones within his reach, 1,000 catches, 100 TDs, won't be achieved — not because of injuries but due to his decisions and that will probably cost him the Hall of Fame."
Not so fast, Mr. Turney.
Brown remains a compelling candidate for a gold jacket, but he's not automatic. In presenting his case in 2027, you wouldn't stand in front of the voting panel, merely say "Ladies and gentlemen, Antonio Brown," and then sit down. He's no slam dunk, even if his production suggests he should be.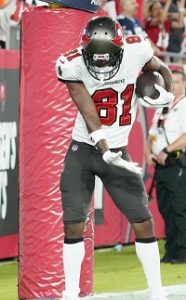 Brown's candidacy figures to generate the same kind of controversy Owens stirred up when he was first eligible in 2016. Like Brown, Owens compiled extraordinary numbers. And like Owens, Brown left a complicated legacy.
Owens received his gold jacket in 2018 and in typical fashion, he shunned the induction ceremony. He was pissed at the Hall for having to wait a few years for his bust, failing to acknowledge his failures as a good teammate.
Brown's antics weren't destructive until his ninth season with the Steelers. Late in the year, Mike Tomlin finally had enough after Brown skipped some practices and a team meeting.
Although Pittsburgh needed a win to have any chance at a playoff berth, Tomlin benched Brown in the final game. Despite edging the Bengals, Pittsburgh finished 9-6-1 and failed to make the postseason.
Brown requested a trade and was shipped to the Riaders, but he never played a game for Jon Gruden. Brady lobbied Belichick to add Brown to the Patriots, but Brown lasted only one game before New England had seen enough.
Brown helped the Bucs win a Super Bowl, but who could forget his meltdown at the Meadowlands that prompted Bruce Arians to say sayonara? Now he's ripping the Bucs online, suggesting the organization didn't do right by him.
The Bucs have been blessed to have big-time receivers like Mike Evans and Chris Godwin represent the franchise in mature fashion instead of prima donnas like Brown and Owens.
The odds are Brown's bust will be found within the walls of Canton someday. If John Madden is correct about the Hall of Fame busts having conversations with each other when the museum closes for the night, Brown's bust should get what it deserves.
The silent treatment.