"The Smaller Tazmanian Devil Type"
May 2nd, 2023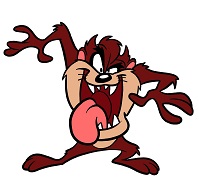 NBC NFL film guru analyst Chris Simms, the former Bucs quarterback, liked 14 teams' drafts last week.
Really 15 if you count how Simms appreciated the way the Cardinals loaded up on 2024 draft picks.
One of Simms' teams with positive drafts is Tampa Bay. He's a big fan of first-round pick Calijah Kancey, the undersized but wildly explosive defensive tackle out of the University of Pittsburgh.
Simms noted how last season the Bucs sought the services for 6-5, 335-pound manbeast Akiem Hicks, but now they've switched up and will roll with 6-1, 280-pound Kancey. Simms thinks it's very cool that Todd Bowles is making the adjustment.
"I love that pairing [of Kancey and Vita Vea,]" Simms said. "They've kind of gone that route of bigger people on the inside the last two years. … This is where it was a little surprising to me that they went this route because I didn't know if the smaller Tazmanian Devil type would be their kind of guy."

Simms speculated the Bucs wanted more disruption and acknowledged, "We can't always be like, 'We're holding our line and here and not letting you move us in a double team.' That's where I love [the pick]."
Smart observation by Simms. The Bucs will have a very different look and feel with Kancey.
Joe had a similar thought, especially when general manager Jason Licht's right-hand scouting man John Spytek said Saturday that Todd Bowles long has been seeking that a complement to Vita Vea who could run all game long.
"I'm sure he'd prefer that Calijah were 310 pounds or something like that, but at the same time, he's undeterred," Spytek said of Bowles.