Sean Murphy-Bunting Reflects On The Tom Brady Effect
May 18th, 2023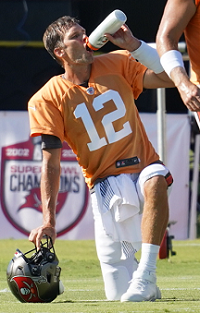 Memories of 2020 are a beautiful thing, minus the heinous pandemic and all the ugliness and stupidy it brought.
Former Bucs cornerback Sean Murphy-Bunting shared a few this week.
SMB is now a proud member of the Tennessee Titans. He seems super happy about his fresh start, but he did answer a question about Super Bowl-season reflections.
Murphy-Bunting talked about how the Bucs were 7-5 at their bye week after getting spanked by the Chiefs. He said the team came back with a pure team mindset and approach.
"More of a want-to thing not a have-to thing. I think guys wanted to be the best," Murphy-Bunting said. "We wanted to win. We wanted to go far. We played with Tom, so we wanted to have the legacy on our backs, as well."
Joe liked the nuance there from Murphy-Bunting, the "want to" versus "have to."
Ironically, it's a core philosophy of Bucs offensive coordinator Dave Canales. Joe has seen Canales preach on Twitter that great things happen when you look at the things you must do in life as things you "get to" do versus "have to" do.
Murphy-Bunting also went on to talk about how close-knit the Bucs' secondary was. That reminded Joe that with SMB departing this offseason with Mike Edwards. The tightnes of the Bucs' secondary — The Gravediggers core — won't be the same.