Ndamukong Suh Picks A Bucs Loss, And More
May 20th, 2023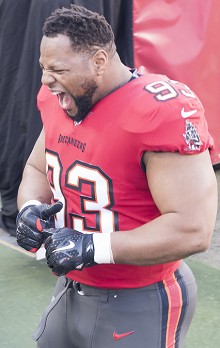 Former Bucs defensive tackle Ndamukong Suh, a Super Bowl-era hero, was busy at NFL Network last week as a guest analyst and podcast visitor.
On the air, Suh had the nerve to pick the Jaguars to enter The Licht House on Christmas Eve and beat the Buccaneers.
A big fan of Todd Bowles, it seems Suh is no a fan of the Bucs' quarterback options.
Suh also had a couple of other things to say that got Joe thinking about the Bucs.
First, he was admant that to be successful as a unit, defensive linemen need to spend a lot of time together off the field and truly care about each other. The cerebral Suh talked about how critical that is during the Total Access podcast.
That got Joe remembering the great chemistry on the Bucs' D-line during the Super Bowl years. But now what?
The Bucs have a load of new pieces there with rookie Calijah Kancey and young veteran free agent Greg Gaines about to play huge roles. Also, Shaq Barrett's early-season status is unclear after his Achilles injury and family tragedy. The Bucs also lost beloved players like Will Gholston (free agent) and Rakeem Nuñez-Roches (Giants) along the D-line. Will the cameraderie still flow?
Lastly, Suh was asked whether he would want to build an NFL team with a defense-first head coach or an offensive guru.
Suh didn't hesitate. He said defense all day because limiting points is the ultimate priority and leads to championships.
Joe can't agree 100 percent with that take, but it's certainly music to the Todd Bowles faithful.